I saw this idea for a frame at McKinney's Third Monday. Frames are one of my favorite things to give, and my friend's will back me up on this, with a groan. I guess it has something to do with the fact that I love taking pictures!
The frames I saw at 3rd Monday were much more polished, but for the price of 1 frame (20 bucks) I will be able to make 4. I've only made ONE so far, but I have all the pieces to make three more. If it were not for the fact that I'm 4 years ahead in making Christmas gifts, this would be slightly 'better news.' Kidding...sort of.
The most 'different' thing I did this crafting go round was play with metal.
I found this 26 gauge metal at Home Depot. I had a stroke of genious, and instead of buying sheet metal cutters I'd use exactly once, I asked some of my friends to ask their husband if they had these in their 'weapon supply.' It's the best of both worlds, the benefits of a husband's tool box, without the laundry. One friend's husband had TWO pairs.
I also bought some tacks....to be discussed a little further down. I cut the metal in half, and then each half in half again. I got four sheets of 6x9 inches of metal. It was not THAT difficult to cut, it was just difficult to cut straight. I finally remember I wasn't really aiming for perfection, and I left it to the best of my imperfect standards. I also cut off the tips of the tacks with the metal cutter. A) Because it was fun to cut metal, and B) Because I couldn't get them to hammer through the metal, and I needed them for aestetic purposes.
I then went back to Home Depot. My plan was to go to the wood scraps section. I made three pumpkin signs from that little treasure box last Halloween for half a dollar. They didn't have the size I needed, so I found a 4 by 12 inch piece for five bucks. The guy who was working in the wood told me they make the cuts for free. This saved me lots of time. He cut it into 4 equal pieces. I snuck a picture in with my iphone. This is what it looks like when someone saves you a bunch of time.
I then took the first wood piece and decided to aim low. I painted it black with some Americana Paint. It took about two coats, and then I took white paint and smeared it on the edges (I just smeared this on with my finger to make it look a little 'aged,' and to make my hands look a little more colorful).
Notice I didn't use chalkboard paint? I thought a magnetic/chalkboard frame was perhaps a bit much. Check my temperature, I don't even KNOW myself anymore!
I wasn't really sure how my trusty superglue would hold with this heavy metal, and wood. I sometimes struggle with super glue and wood, so I bought some gorilla glue.
I put a 'squiggley' bit on the back of the metal, and then pressed it down on the wood. I put some weight on top, and let it dry. I also dabbed some gorilla glue on the tacks, and I did hammer them down a bit. This allowed them to sit flush against the sheet of metal. The thing with gorilla glue is that is goes on a translucent amber color, but it 'foams up' into a white....well, foam. It spilled a little bit out of the tacks, but it was easy to peel off the excess, and the rest held really well.
Next up....I printed off a little message. I used my cricut, but I could have used paint, or stickers. My family usually gets the remnants of my first crafting attempt, so....'family' just about covered anyone that might be getting this. I mod podged the whole thing so it had a bit of a gloss.
I then made some magnets. I used a Creative Memories punch the size of my magnets, and some black scrapbook paper. I mod podged the paper down, then put a diamond glaze layer on top.
The magnets allow me to stick pictures on of my family, and then remove them and replace them when the posted family member makes me unhappy. Kidding! ;o)
I can think of at least one more I'm planning with a fun paper backing instead of paint....and then I have two more 'in-waiting.' I'm sure they won't have to wait long before the need arises to put these last two together.
Linking To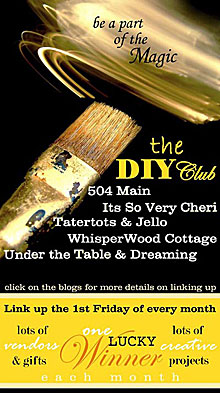 Somewhat Simple
Fun to Craft
Funky Junk