Let me just pause for a minute in the midst of a bunch of cooking post and say if the fire department doesn't come tomorrow and shut my house down....you can push me over with a feather. I'm completely overwhelmed by the number of projects I have going, and yet, I can't stop.
(I promise to throw gifts I've been working on up on the blog soon so I can share, and gather more ideas from bloggers in the process. I've started dating some post far out in advance and I think I have enough post to blog JUST gifts for a solid month, I won't, but I'm not kidding about that. I think I have more gifts than friends, so I'll be heading down to the local gas station, park bench, or McDonald's to see if I can gather a few more friends to exchange Christmas gifts with this year.)
I just wrote down three more I want to try via the Christmas in July event going on at Tip Junkie. Laurie has some really fun ideas, AND some great giveaways going on to get the shopping started early.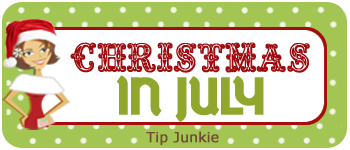 Early Christmas shopping, assuming you don't start making your Christmas gifts a year and one month before the next Christmas...and yet, I'm still going to be floating around all the Christmas in July festivities. For me, there is always next, NeXt, NEXT Christmas to prepare for, right? Plus, at some point, I'm planning on throwing gifts at people I don't know too, I just have to go pull them out from under all the unfinished gifts. Be prepared to be showered with crap....I mean TREASURES from my craft room to yours.