Remember this bag? It finally made it's way home for Blythe Anne's first birthday (May 5th).
Every girl needs a cute bag, right? I decided Blythe needed an activity bag she can carry with her the next few years as she visits family....she's quite the little traveler. I also figured she was too young to remember year 1 gifts, so I took the opportunity to make this activity bag-she can use later. Someday I'll have to conform to 'big' and 'store' bought, but....for now....homemade. I got the idea for this from the following site:
http://chasingcheerios.blogspot.com/2009/06/activity-bags_27.html
This blogger has Montessori schooling activities she shares, and she hangs pencil bags in her daughter's environment filled with activities. So cute. She also takes these on trips. I decided to provide the carrying bag, and the bags inside. I hope it'll be exciting for Blythe to choose between the activities in the bags to keep her entertained on trips to see...well, me! I just have the skeletons of her travel pack ready, and, of course, they are not age appropriate now, but I figure her parents can fill them as she gets older and shows interest in various activities. This start up kit can give them a few ideas. It was hard for me to keep it at a skeleton level of 'stuff,' and even more difficult for me not to write 'lesson plans' for each bag. There are soooo many cute ideas I've seen, more on that later. Here are the inside activities to choose between (like I said, most are too old now, and later can be rotated.) I love the colors I was able to find (at Office Depot) for the pencil pouches and I love the two pockets, and the sturdy material they are made from!
Letter Bag


I wanted to find a little magnetic slate for these, or add a sentence strip with a magnetic strip, but....I just kept these as is...for now. She can play with the letters and discover their shapes, match them with her environment, chew on them, whatever! Someday she can start spelling words...How about A-U-N-T C-H-R-I-S-T-Y?
Finger Puppets and Paper Dolls


I found these finger puppets at Target, but I've also bought them at World Market, and online at Oriental Trading for past 'stuff.' I found the paper dolls at this site I loved, and have shared before.
http://babalisme.blogspot.com/2009/12/doll-printableagain.html
The paper dolls are waaaay too early, but I needed to do this. I also saw some really cute felt story boards on various blogs. You can cut out pieces from felt to manipulate and make a gingerbread house, snowman scene etc (also featured items on Chasing Cheerios)... Again, I'll save these ideas for later.
Books!!


This doesn't really need an explanation. I found the sturdy little books at Target as well. I've seen these bags with 'theme' pouches, and theme items that go with each book as well. Uhhh...don't EVEN get me started on that, ask any teacher I work with, there aren't enough pouches at Office Depot to contain my ideas for these sort of project. I know my limits....I....love...theme....everything, I can't be stopped if I ever get started. I can't be controlled, so I can't do it...for now.
Arts and Crafts


I made this little book with blank pages for Blythe to create her own works of art.
I just included some crayons I made awhile back from recycled crayons in bear shapes using a bear cookie cutter(a little early ulterior motive-Sic 'Em), and stickers. I saw a lot of ideas with little scissors, gluesticks, and fun writing supplies, but....she's not ready yet, so....
Sorting


I've seen this sorting idea with bear counters etc, but I just used what I could find easily, which were these little foam shapes. Blythe can either sort them by shapes, or colors. Or she can eat them. Sure, it would have been more educational if they were circles, squares...but....I figure she'll get enough of that soon...she has a few more Aunts who are teachers. They are also stickers, so she can sort them into her art pouch later, and sort other things (obviously not for another year plus). I found the little containers at the dollar tree, they were small enough to slip in the bags, which I liked. :O)
Here they are all together.


And then....inside their bag. They don't even take up half of the bag....room enough for a favorite stuffed animal, and a blanket. :O)


OK, some other ideas I loved (but I ran out of bags) were bags with tangrams, mini potato heads, yarn sewing, beads, variety of open/close containers etc...oh...the potential!
Featured On: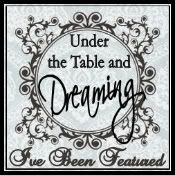 Linking To:

http://funkyjunkinteriors.blogspot.com/2010/05/sns-30-brings-you-refurbished.html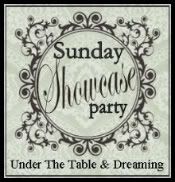 Tot Tuesday