First, the project that worked...not to be confused with Plan A that didn't work...
Here's a picture of the spoons in the only herbs that ever dared to live in my backyard for more than a week.


Granted....I didn't actually write the real names of the herbs that were in these pots b/c they are A) A gift for someone else, so this isn't their permanent home, and B) I couldn't remember what herbs actually lived at my house b/c I rarely visit them, and C) They are in the witness protection program, so I can't reveal their real name.
These garden markers aren't going to live at my house b/c they are part of a bigger gift for a friend....I'll share the whole she-bang after her birthday she-bang...and after I actually figure out what the whole she-bang is going to be.
And without further ado....
How to make a chalkboard spoon:
Warning- You're probably going to need to print these complicated instructions out...or tell them to a two year old so they can take you through the steps later if you choose to try this out.
A) First buy a bunch of materials you don't know how to use correctly, pout when you realized you don't know how to hammer stuff, and then move on to step B)
B) Supplies: Spoons (I bought these two for a dollar at the dollar store....I later found out they sell old spoons for 15 cents at the local thrift store, or you can snag 'em for free out of your friend's silverware stash...your choice...just wanted to throw all the options out there), chalkboard paint (same can, 15,346 projects later-it's officially going in my will), painter's tape, mallet....or hammer, or good firm stomp.


Instructions:
1. I took a mallet and beat the tar out of each spoon first b/c I was feeling angry...or...I decided it would be easier to write on the spoons if they were flat....and I had seen this done with engraved garden spoons using this same concept, and they flattened them. It's my life long goal to be like everyone else.


2. Tape off bottom of the spoons....just b/c you can.


3. Spray one side....dry (let me say for the 5,346th time....this stuff dries FAST). Spray side two. Dry.


4. Write on spoons...you might want to actually write the actual name of the herb you are marking....or your cooking might take a turn.
5. Plant herbs, mark herbs with spoons.
GOOD NEWS...since it's a chalkboard surface you can kill whatever is planted in the spoon's pot on a regular basis...and rewrite...erase....and rewrite...erase...and rewrite....TRUST ME, this is a necessary feature in my world.
In other non-important news, these were NOT supposed to be chalkboard spoon markers for the garden. After seeing engraved garden spoons on linky parties, I spent 18 dollars on a nifty-new set of stamps that were going to settle into the metal and create a little engraved set of spoon markers....and then I was going to move into the world of washers and make little jewelry tags....I was going to change the world.
First, I bought this stuff....


I got my hammer, and I decided to start with 'mint'....b/c it was short.
I banged...and I banged....and I bought more spoons b/c I thought....uhh....maybe the dollar store spoons were too high?....too low?....quality, and maybe I needed softer metal....
I bought a rubber mallet b/c I thought maybe it was the dinky hammer.
I bought washers b/c I thought maybe the projects I had seen in the past with hammered spoon letters were done by...umm...machines? And when I say machines...I mean people who can, like, hammer, and maybe work out or something b/c I can't say that hammering is a skill of mine, and I can definitely say upper body strength is not an area I focus on at the gym, or rather, it's not an area I'd focus on if I actually went to the gym.
I stewed for 24 hours. I didn't want 3 dollars on spoons to go to waste. And then I remembered the one thing that never fails me.
Ever.
Chalkboard paint.
I have no doubt I'm not the first person to have this idea, but I haven't seen it, so can you pretend? I need that right now. In other news, I'm going to build a house of spoons....I'm pretty sure it's just about the most secure structure I can think of....I'm going to hold it together with magnets b/c obviously hammering nails into the little steel rods isn't going to work if I can't even dent them with the letter stamps.
I'm not giving up on the metal letter stamps....my fishing line can always use a little extra weight....
Featured On: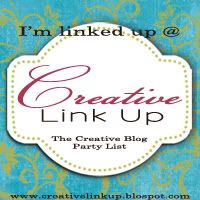 Linking To:
Keeping it Simple
Between Naps on the Porch
It's So Very Cheri
C.R.A.F.T.
It's a Blog Party
Tip Junkie
Trendy Treehouse
Somewhat Simple
Fireflies and Jellybeans
Fun to Craft
504 Main
Frou Frou Decor
Funky Junk
Tatortots and Jello
House of Hepworths